About

The Phoronix Test Suite was developed out of the tools developed at Phoronix.com since its founding in 2004. The Phoronix Test Suite is designed for Linux benchmarking but also supports other operating systems. Read more about the Phoronix Test Suite.
OpenBenchmarking.org

OpenBenchmarking.org was launched with Phoronix Test Suite 3.0 as a means of sharing benchmark results with the greater community, collectively collaborate over test results, store test profiles and test suites within a centralized cloud repository, and carry out other tests. Visit OpenBenchmarking.org to learn more.
Phoromatic

Phoromatic is an enterprise-designed component to the Phoronix Test Suite to centrally manage entire test farms/clusters of systems, carry out tests on a time or triggered basis, and provide support for other centralized test management purposes. Learn more at Phoromatic.com.
Commercial Support

The Phoronix Test Suite's future development is dependent upon the continued support from organizations and other stakeholders taking advantage of this long-standing, open-source benchmarking software. We are happy to offer custom engineering services, commercial support, sponsorship of new open-source software features, custom test profiles, and other commercial support options for those interested in helping advance this automated Linux benchmarking software. Contact us to learn more.
About
The Phoronix Test Suite was conceived out of the internal tools developed by Phoronix Media over the years of operating Phoronix.com, one of the first Linux-based hardware review web-sites and is now the largest provider of Linux software and hardware benchmarks on the Internet with thousands of articles. Phoronix launched in June of 2004 and in mid 2007 is when work on the public version of Phoronix Test Suite commenced. The lead developer of the Phoronix Test Suite is Michael Larabel, the founder of Phoronix. Matthew Tippett, formerly the Linux Core Engineering Manager of Advanced Micro Devices (AMD), is a Phoronix Test Suite partner and shares responsibility for the overall direction of the test suite.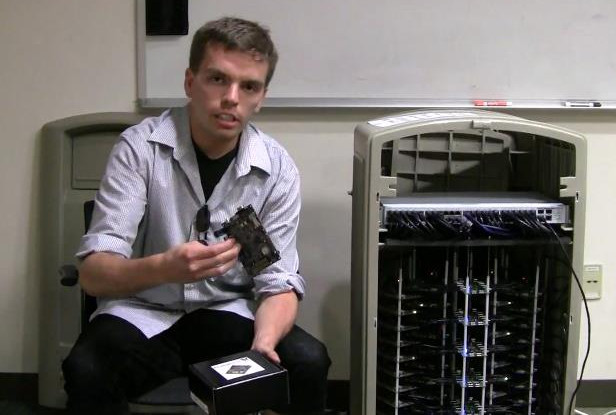 Michael Larabel, founder of Phoronix and the lead developer of the Phoronix Test Suite.
Many independent hardware and software vendors have also provided feedback, patches, and other forms of support to the development of the Phoronix Test Suite. More than two dozen different corporations and individuals have directly contributed to the development of this software. Phoronix Media remains the key sponsor and entity behind the development of the Phoronix Test Suite with it striving to make Linux benchmarking incredibly robust and innovative, very easy to perform nearly any kind of benchmark, and when it out-paces other leading operating systems for its benchmarking abilities. Phoronix Media provides commercial services and custom engineering for the long-term sustainability of this open-source software product.
While the internal Linux testing tools at Phoronix began as just a simple set of scripts many years ago, the Phoronix Test Suite has evolved into becoming a one-of-a-kind, feature-rich framework and a software package that is unique regardless of platform for its capabilities and openness. Vendors no longer need to rely upon their own engineers to develop in-house utilities to accomplish their internal testing needs whatever they may be for computer hardware or software, but they are able to leverage this extensible platform that provides a greater feature-set while lowering their costs.
The Phoronix Test Suite has received many awards and accolades for its features and capabilities. Various milestones are shared on the press page and release history.